PolyMediol soft gels are a dietary supplement for people who suffer from symptoms that might be related to bacterial or fungal overgrowth. Each soft gel contains an extract of a New Zealand grown native plant called polygodial, with a standardized amount of the active constituent. The pure polygodial that goes into each PolyMediol soft gel capsule is derived from the Horopito plant native to New Zealand, using zero pesticides, herbicides, solvents, binders or fillers.
PolyMediol soft gels support digestive health by killing off Candida overgrowth in the digestive system, restoring digestive health, naturally. PolyMediol soft gels are backed by clinical studies showing it is more effective than mainstream nutraceuticals.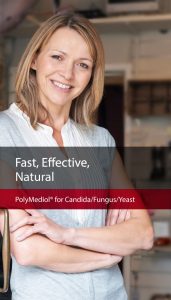 KetoMed entered into an exclusive agreement with the New Zealand company that chemically defined the polygodial phytonutrients in the Horopito plant and developed the compound. Afterwards, KetoMed had the raw concentrate used in PolyMediol tested at an independent American medical laboratory for its ability to inhibit certain fungi, including a multi-drug resistant yeast species. KetoMed funded this research and the results not only confirmed decades old studies but further discovered brand new findings in the ability of polygodial to inhibit the growth of and induce the killing of a newly discovered strain of disease-causing yeast.
In some instances, the active ingredient in PolyMediol was superior to antifungal drugs (1-3). Because of this and our newly discovered findings, we ask that if you are regularly taking medications aimed at inhibiting infections you share this link with your doctor ( https://ketomed.com/wp-content/uploads/2020/01/DrsLetterPolyMediol.pdf) before taking this product.
A groundswell of research over the years has substantiated that PolyMediol soft gels are more potent than well-known dietary supplements at inhibiting or killing Candida (Caprylic acid,PauDArco, oregano and garlic).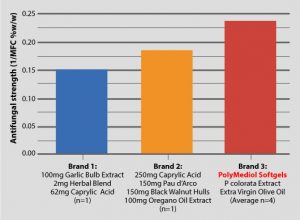 What's more, PolyMediol soft gels are entirely natural, bringing you the purity and power of thousands of years of forest evolution. Polygodial may be the world's most potent natural support for long term reduction in Candida-related health problems. KetoMed Nutraceuticals, Inc. has a commitment to benefit the wider community through the expertise it developed while taking the little known polygodial ingredient from the native New Zealand Horopito plant to the U.S market.